Hoisin Glazed Pork Chops With Thai Power Pack
gailanng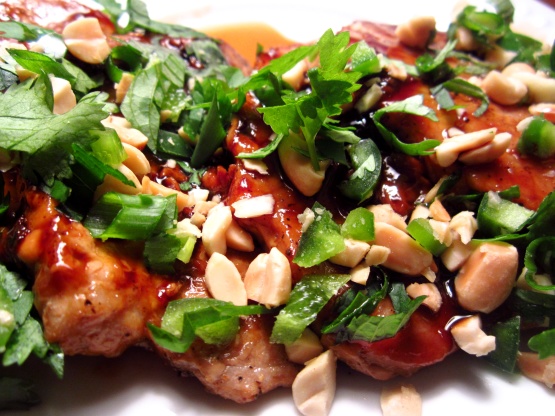 This recipe comes from "Let the Flames Begin". It calls for thin chops, but I used regular cut, and I also used my grill pan, not my outdoor grill. Very good!
For the glaze whisk together the hoisin and lime juice and set aside.
Combine all the power pack ingredients (peanuts through scallions), plus salt and pepper, mixing well with a fork or your hands and set aside.
Preheat grill or grill pan.
Sprinkle chops generously with salt and pepper and place on hot grill for about 3-4 minutes per side (you do not want to overcook them) and brush with glaze the last 30 seconds of grilling.
When chops are done (they should be just slightly pink in the center), remove from grill and arrange on platter.
Sprinkle the power pack over the chops and serve, passing the remaining glaze on the side.