Hoisin-Braised Tempeh and Chinese Vegetables
jenne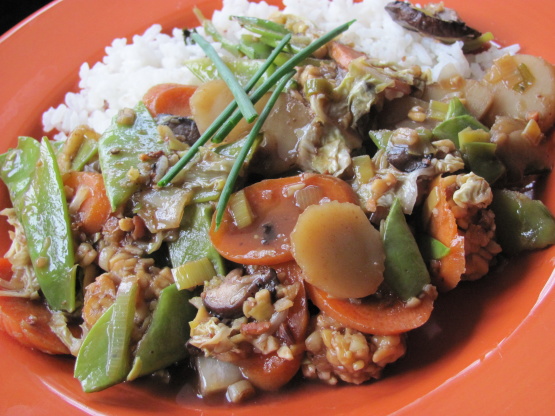 Braising means to brown the ingredients in a little oil, then add a bit of liquid, cover the pot tightly and cook to blend the flavors. This is a delicious dish by itself, or over brown rice or noodles! Adapted from Vegetarian Times.

This was good. We enjoyed all of the veggies. DH said we could have probably gotten away with just 8 oz of tempeh with the same proportion of vegetables. It needed more sauce, and unfortunately the recipe took all of the hoisin I had on had so I dashed with tamari. We served over brown rice.
Heat the olive oil in large pot over medium-high heat.
Add tempeh and cook until browned, stirring often, about 5 minutes.
Add garlic and ginger.
Cook until fragrant, about 30 seconds.
Stir in remaining ingredients except the snow peas.
Reduce heat to low, cover and cook 15 minutes.
Add snow peas, cover, and cook until vegetables are cooked but still firm, about 5 minutes longer.
Remove and place on a serving platter, over rice if desired.
Enjoy!