Hey Jude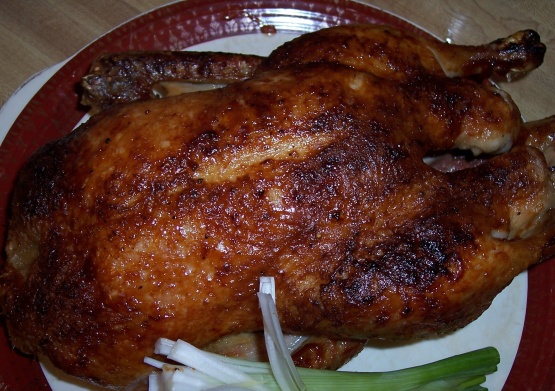 This is delicious and easy and only 4 ingredients! I found this in my 'Weber's Real Grilling' cookbook so it's kind of tailored to gas grill cooking...which is not to say that you can't do this on a charcoal grill, I would just carefully arrange the coals on the perimeter of the grill so that you're grilling on indirect heat. For gas grills, this is best done on grills with 4 vertical burners...place the duck on the middle of the grill and turn on the two end burners. That worked perfectly for me and I ended up with the best duck I've ever made. My 'neutral about duck' husband raved over it and asked me to make duck only this way in the future. I served this with my Baby Bok Choy with Oyster sauce (#74827) and my Scallion Cake (#82493) and I don't mean to self-promote those recipes but this ended up being such a perfect meal for us, I just can't help talking about it :)
Remove and discard, or use for other purposes, the neck, giblets and any excess fat from either end of the duck; prick the duck skin all over with a small knife, going sideways and DON'T go through to the meat and pay special attention to the fattier areas of the breasts - you want to get as much fat out as possible during the boiling time.
Fill a large pot with enough water to cover the duck (I placed the duck in the pot, filled with water, removed the duck and then placed the pot over the burner to heat); bring the water to a boil and then carefully lower the duck into the water and push it down (wooden spoons are good here); bring the water back to a boil, lower the heat to a simmer and cook the duck for 15 minutes.
Place a long handled spoon into the duck cavity and lift carefully, letting the cavity water drain into the pot, then place the duck onto a rimmed baking sheet lined with paper towels; pat dry, inside and out.
Season the duck with the salt and pepper, inside and out; bend back the wings and tie the legs together with twine.
Grill over indirect high heat (see my comments in my description) for 45 minutes (less if you like your duck rare); brush the duck all over with 2 tablespoons of hoisin sauce and continue grilling until the skin is dark brown, about 10-15 minutes, watch carefully as the duck can brown pretty fast with the hoisin sauce on it.
Remove from the grill and let rest for about 10 minutes before carving.
Serve warm with remaining hoisin sauce -- we used a lot more sauce during the serving time!
This is great with scallion cakes or you could also make a sort of 'peking duck' out of this with some mandarin pancakes, hoisin sauce and sliced green onions.