Hochbrueckner Cream of Broccoli Soup
Prep 30 mins
Cook 30 mins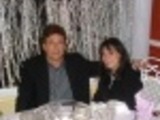 I clipped this recipe from the newspaper in 1984, which was attributed to then New York State Assemblyman George J. Hochbrueckner, who later was elected to Congress. It was my first attempt at this soup, and I find myself always going back to this recipe.
Directions
Trim flowerets from broccoli and reserve. Put aside stems for another use.
In a medium saucepan, combine flowerets and chicken broth. Bring to a boil; reduce heat. Cook, uncovered, over medium-low heat, until broccoli is tender, about 12 minutes.
Meanwhile, in a heavy skillet, melt butter and saute onion until golden, about 8 minutes. Reduce heat to low. Stir in flour and cook, stirring constantly, 2 minutes. Stir onion-flour mixture into soup. Heat to boiling; cook until thick. Remove from heat. Add salt and pepper.
Transfer broccoli mixture to the container of a food processor. Process until smooth, being careful, as hot liquid will expand. Transfer to clean pot. Add milk, cream, nutmeg, and dash of hot pepper sauce. Heat slowly to boiling, stirring constantly, and remove from heat.
Pour into 6 flameproof soup bowls. Sprinkle each with cheese and run under a preheated broiler until lightly browned.
Most Helpful
What a great broccoli soup! I loved the addition of the hot sauce. I didn't broil it because I was short on time, but I'd like to try it sometime. Thank you! MAde for CQ '16.

Yummy. quick and simple! Thanks for sharing, made for your football win 2013 Congratulations!

Lovely, rich soup made with my favorite vegetable. I made this up tonight after a day of shopping in minus 0 degree winds and the first snowfall of this season. It was wonderful. It was warm and filling without being over heavy. It's also delicious and I love the cheese. The only thing missing was a fireplace. I wasn't very sure about my dishes being broiler proof so I skipped that part and settled for the cheese melting into the hot soup.