Maiden77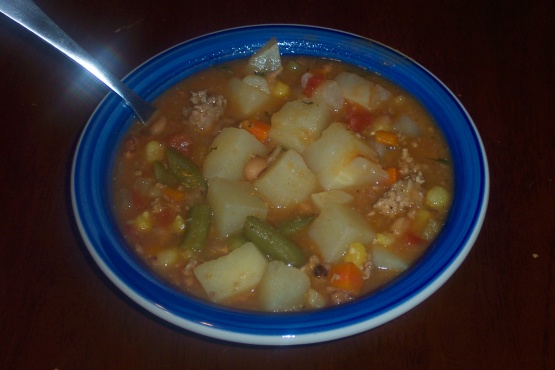 My dad use to make this dish when I was growing up and I just loved it. Of course his was a little different from mine but just as good. He would refer to it as Rainbow Stew also. Every time I make it I am reminded of him and remember all the times watching him cook growing up. It is called Hobo Stew because you can add anything you can get your hands on to it and it tastes great. It is very pantry friendly since you can pretty much use what you have vegetable wise (or what you like.) You can also add different meats. I have made it with ground longhorn, turkey, and deer. I have also used chunks of meat rather than ground. It is a great way to used up meat you have stashed in the freezer but can't think of what to cook with it (or just not enough of it the meat for it to stand-alone.) Tonight I actually used some cubed steaks I had in the freezer. I just chopped them up. If you use actual chunks of meat I would cut them into 1-inch chunks, brown in the oil before adding the vegetables. You can also play around with the herbs, adding combos you like or fresh herbs you have on hand. I just happened to have some fresh greek oregano my mother-in-law gave me . Just have fun and play around with it. The recipe is very versatile and makes a large pot of food. It is budget friendly too since you can use what is on sale.
1⁄4 cup olive oil

1

onion, diced

4

carrots, diced

2

stalks celery, diced

1

lb ground beef

2

tablespoons tomato paste

4

garlic cloves, minced
1⁄4 cup flour

2

(14 ounce) cans diced tomatoes, with their juices

2

(14 ounce) cans vegetable broth

4

cups beef broth

2

tablespoons Worcestershire sauce

4

large russet potatoes, peeled and cut into 1-inch chunks (roughly 2 pounds)

2

(14 ounce) cans green beans, drained

2

(14 ounce) cans black-eyed peas, drained

2

(14 ounce) cans hominy, drained
1⁄4 cup fresh oregano, minced (or 1 tablespoon dried)
salt and pepper
Heat oil in a large pot over medium-high heat. Add in the onion, carrots, and celery. Cook until the onion is translucent.
Add the meat and cook until no longer pink. Toss in the tomato paste and cook for roughly two minutes. The color of the paste will deepen. Put in the garlic and cook 30 seconds, until garlic is fragrant.
Add the flour and stir to coat the meat and vegetables. Allow to cook for 2 or 3 minutes to cook out the raw flour taste.
Stir in the tomatoes with their juices. Add both kinds of broth, Worcestershire sauce, bay leaves, and then carefully place your potatoes inches Stir in the rest of the vegetables (green beans, hominy, and black-eyes peas.).
Bring to a boil, then cover, reduce heat and simmer hard (or low boil) until the potatoes are done (you will be able to easily slide a fork in.) It could take up to an hour depending on how small you cut the potatoes. Stir occasionally.
When potatoes are done remove the bay leaves, stir in the oregano, and salt and pepper to taste.