ChefLee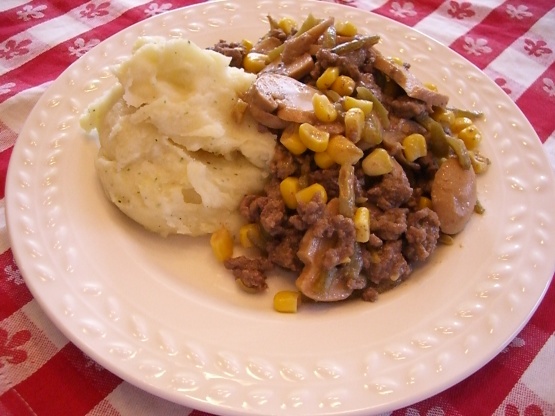 I know this is not the best written compared to most of the other entries, but I'm a 22 year old guy, so please forgive me. This is a great, easy to make meal that we make sometimes when we have company over, or if we are low on groceries because we almost always have this stuff around. Enjoy.
Marinate ground beef in a little Dale's and a few squirts of Worcestershire sauce for a couple of hours.
Put ground beef in a skillet and brown.
Prepare mashed potatoes in accordance with package instructions.
Take sauce pan and add veggie oil and flour, cooking over medium-low heat to make a rouge.
Drain the juices from the skillet with the meat into the rouge and stir constantly until gravy thickens.
Add green beans, corn and mushrooms to beef in skillet and mix well until heated through.
Can serve with mashed potatoes and gravy on the side or mix it all together like we do.