I got this recipe from Paula Deen's show. It is so easy and good. Great for cookouts and camping. I spray the foil first so it doesn't stick and if I cook on the grill I will wrap a piece of cabbage on outside of each foil to keep from burning.
Directions
In a large bowl combine ground beef, cracker crumbs, egg, lemon juice, cheese, green pepper, salt, pepper, and garlic. MIx well and shape into 4 patties.
Place each patty onto 2 layers of aluminum foil, on each patty, place potato slices, onion slice and carrots. Slice bacon in 1/2 and place both slices on top. Seal foil tightly around burger and cook on campfire or in preheated 350 degree oven for about 45 minute.
Most Helpful
These were very good, but I added a few of my own touches. (I've never followed a recipe "to-the-letter" yet) Used celery instead of green peppers (YUK)...also used a special seasoning of my own in the ground beef. I put them in the oven for an hour...didn't think 45 minutes was quite long enough. Also, next time I'll spray the foil. THANKS for the recipe!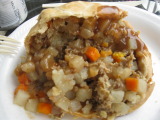 What a great idea for a effortless meal on the grill! We've been making a similar recipe once a year for our annual canoe-camp-out up north. Everyone loved these! I left the onions out so my onion-hating son wouldn't "wretch" ... otherwise, don't change a thing! *Made for PAC Spring 09*

This was really good. The only thing I would do different next time would be to spray the foil with non-stick cooking spray.