Smarahcakes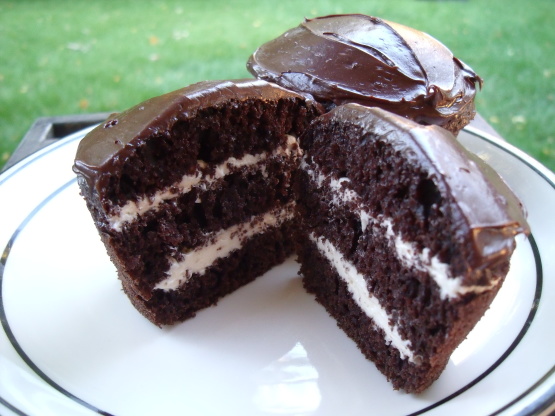 This is like a giant Hostess Ho Ho. The creme filling is the key here I think.

YUMMY!!!! I love the filling in this. And I think that by making 4 layers you get more of the flavor of the cake the way it's supposed to be. It was easy to make. Try this!!
517.37

g box chocolate cake mix

3

eggs (or as called for by your cake mix)

78.07

ml oil (or as called for by your cake mix)

314.66

ml water (or as called for by your cake mix)

453.59

g can dark chocolate icing

118.29

ml sugar

158.51

ml shortening

4.92

ml vanilla

78.07

ml milk

1.23

ml salt

4.92

ml water

236.59

ml powdered sugar
Prepare cake as directed on package for two round pans.
When cool, "slice" through cakes to make 4 "thin" cakes.
Beat sugar, shortening, vanilla, milk, salt and water for 7 minutes.
Add powdered sugar and beat for 5 minutes longer.
Lay one layer of cake on plate.
Spread Cream filling on top only, do not go all the way to the edge.
Lay another layer of cake on this.
Spread cream filling on this too.
Again layer and filling until you have all four layers on here.
Ice the whole cake with the chocolate icing.