YaYa1689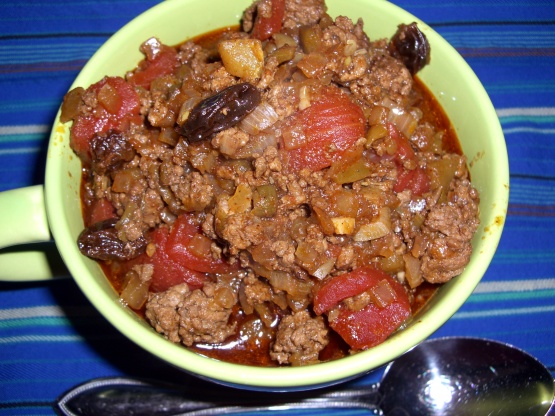 The flavors in this really interesting chili are drawn from ingredients used by the Spaniards who settled in the West Indies on the islands now called Cuba and Hispaniola. It's not your everyday chili!

I absolutely loved the combination of flavors in this! It reminded me a lot of picadillo, and it was absolutely delicious. And it was so easy to make for this novice cook! Will definitely make this again! Made for ZWT9.
Brown the meat in a large Dutch oven, cook the beef over medium-high heat, about 4-5 minutes.
Remove contents from the Dutch oven and set aside. Reduce heat to medium low and add onions and saute until translucent, about 3 minutes.
Add garlic and cook 1 minute.
Replace meat and add bay leaves, chili powder, cumin, nutmeg, pepper, allspice, salt, thyme, capers, olives, chiles, coffee, molasses, and tomatoes. Simmer uncovered for 20 minutes.
Finish the chili: Add raisins and simmer uncovered for 10 minutes. Garnish with almonds. Serve hot over cooked rice.