NELady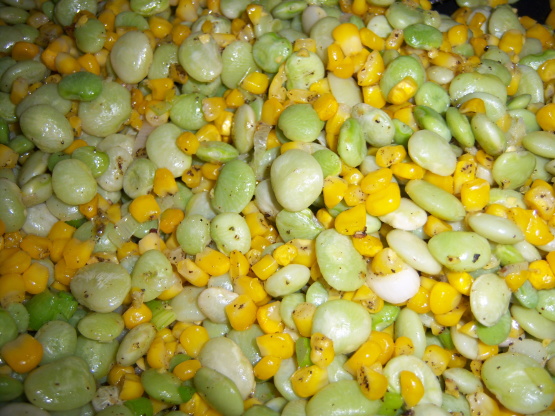 From The Hippy Gourmet's Quick and Simple Cookboook for Healthy Eating, c. 2007. I like this recipe because it is much lighter than other recipes I've tried that include bacon and butter, and because there is no sugar added. The corn makes the dish plenty sweet for me.

This was FANTASTIC! I really loved the flavor that panfrying the corn brought to this dish. I used frozen corn and lima beans, green onions from the garden, and fresh sage. I boiled my lima beans according to package, but otherwise kept to the recipe. I will definitely be making this again, but maybe cutting the sage in half or so next time, depending on how it smells. The sage I got was a little overpowering. Thank you for posting! Made for Gnome Tag.
Heat the oil in a skillet over a medium-high flame. Add the corn, cooking until it's lightly browned, about 5 to 7 minutes. Add the green onions and cook for a minute or so more. Remove from heat.
Bring 6 to 8 cups of water to a boil in a large saucepan. Add the lima beans and cook until tender, about 10 minutes. Drain.
Add the lima beans and sage to the corn mixture. Heat all the ingredients well over a medium-high flame. Season to taste with salt and pepper, and serve.