YaYa1689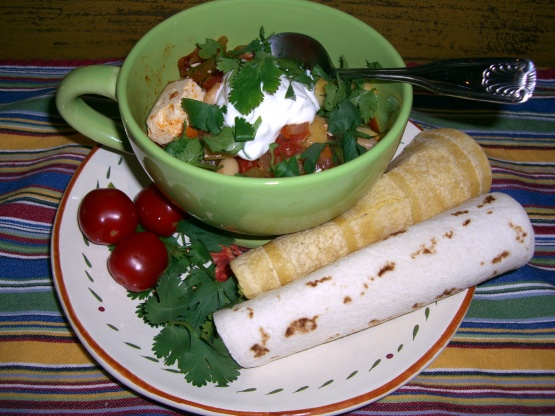 My quest to find a good vegetarian chili recipe ended with this. It's a combination of a couple of recipes plus some adjustments and additions of my own. My roommate says it is not chili--more like a stew--but still really good, if only I left out the bell peppers. I don't really measure or time my recipes, so this is a bit approximate. Season with salt and pepper every step or two. It's vegan as long as you don't top with the optional sour cream.

HEY! If this is vegetarian, then bring it on! Fixed this for DH & I tonight & will definately be cooking this stew again. The chili powder, jalapeno & green chilies give it a nice kick. Easy to cook, especially because I have one of those chop box things I just purchased at Williams Sonoma. I recommend anyone purchasing one it chops so fast! The only thing I might change is to add the whole beer. This could have used a little more juice. Maybe add a can of vegetable broth. I think the big dollop of sour cream really helped to balance the hotness of the chili powder, jalapeno & green chilies.
1

tablespoon olive oil

1

large yellow onion, chopped

1

carrot, peeled and chopped

2

celery ribs, chopped

1

green bell pepper, chopped

1

jalapeno, minced, seeded if you like, depending on preferred heat level

2

garlic cloves, chopped

1 -2

tablespoon chili powder

1

dash cumin (to taste)
salt and pepper, to taste

1

zucchini, diced

0.5

(12 ounce) beer, whatever you like

2

(15 ounce) cans diced tomatoes with green chilies

1

(16 ounce) package lite extra-firm tofu, drained, patted dry, and large-diced

1

(15 ounce) can cannellini beans, drained and rinsed or 1 (15 ounce) canany other beans
sour cream (optional)
cilantro (optional)
pickled jalapeno pepper (optional)
tortilla (optional)
tortilla chips (optional)
Add oil then onion to a large pot and saute a couple of minutes.
Add carrot and celery and saute a couple of minutes further.
Add green bell pepper, jalapeno, garlic, chili powder, and cumin. Saute a further 5 minutes or so.
Add zucchini, beer, and 1 can of tomatoes. Cook until heated through.
Add the other can of tomatoes, tofu, and beans.
Check for seasoning and simmer a few minutes before serving.
Garnish with whatever you like (I like a dollop of sour cream, chopped cilantro, and rough-chopped pickled jalapeno. I like to serve it with a few blue corn tortilla chips and a small warmed flour tortilla.).