Himmel Und Erde (Heaven and Earth)
kbpurple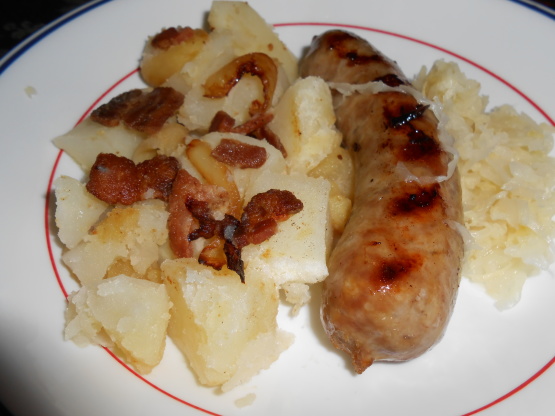 Posted for World Tour 2006, this is a traditional German accompaniment to sausages or pork dishes. The flavors meld quite a bit better than one unaccustomed to it would guess. Try it--I think you'll be pleasantly surprised.
Heat 1 inch water to boiling; add potatoes, apples and sugar; heat to boiling, reduce heat, cover and cook until tender, about 10 to 15 minutes; drain.
Fry bacon until crisp; drain on paper towels; cook and stir onion in bacon fat until soft and lightly browned.
Place potatoes and apples in serving bowl; dot with butter, salt and pepper to taste and sprinkle with nutmeg; top with bacon and onion and serve.
Alternatively, you can boil the potatoes and apples, then fry them in a little bit of oil to get them browned and crispy then mix with all the other ingredients.