Hilbeh - Traditional Spiced Fenugreek Dip from Yemen
Um Safia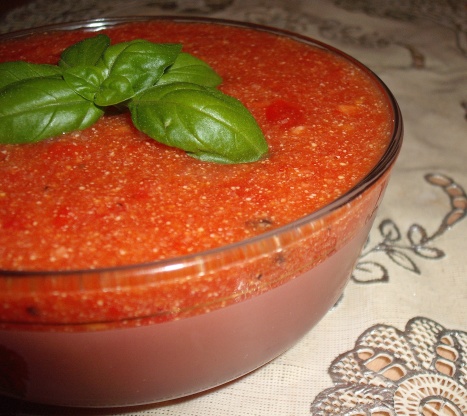 Hilbeh is an amazing dip which is delicious when eaten with freshy baked or toasted flat bread. It is kind of a cross between a jelly, a chutney & a salsa... You'll be amazed to see how it's made! Try this for an unusual starter or appetizer. Time to make doesn't include the fenugreek soaking time.
Place the fenugreek powder in a large bowl. Pour plenty of boiling water over the powder & stir. Using lots of water helps take away some of the bitterness of the fenugreek. Leave to stand for at least 5 hours or overnight if possible.
Carefully pour the water off, to reveal surprising mound of fenugreek jelly.
Place the garlic, tomato, tomato puree, caraway seeds, cardamom seeds, chilli flakes & salt in a blender & process until very smooth. Taste for seasoning. Add the fenugreek jelly & pulse to mix.
Serve as a dip for warm flat bread such as pitta etc.