High Voltage Chocolate Orange Dessert (no Flour)
Bev I Am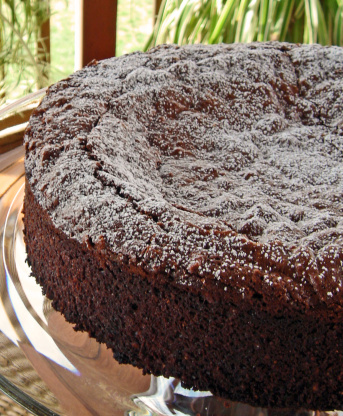 Chocolate, Cointreau, almonds, what more could you ask for in a dessert? I found this recipe in the New York Daily News, have adapted it to what makes me happy. I use soy milk and margarine so the recipe is not dairy at all, but you can use milk (or cream) and butter instead.

Wonderfully fudgy, lightly flavored with orange and chocked full of almonds! I made this very easy recipe using butter and half and half. I decided to use my 9" springform pan and it worked very well with this cake. I would recommend this to serve for company as it makes a nice presentation dusted with powdered sugar. I would suggest serving with a little vanilla ice cream on the side. Thanks for the great chocolate high, Mirj :)
Preheat the oven to 350 degrees.
Lightly grease a deep 8- or 9-inch round cake pan.
In the top of a double boiler set over simmering water, melt the chocolate with the soy milk and margarine.
Do not allow this to boil.
(I usually do this step in the microwave at 70% power so as not to burn the chocolate).
Set aside to cool.
Stir in the vanilla and Cointreau.
In a mixing bowl, combine egg yolks and sugar.
Beat very well.
In a separate mixing bowl, whip egg whites until peaks form and they are foamy.
Fold the egg whites into the egg yolk and sugar mixture.
Stir in the chocolate mixture and finely chopped almonds.
Pour the mixture into the prepared cake pan.
Bake for about 45 minutes.
Allow the cake to cool completely.
Sprinkle with confectioner's sugar.