High Protein No Guilt Skinny Cheesecake
PumpKIM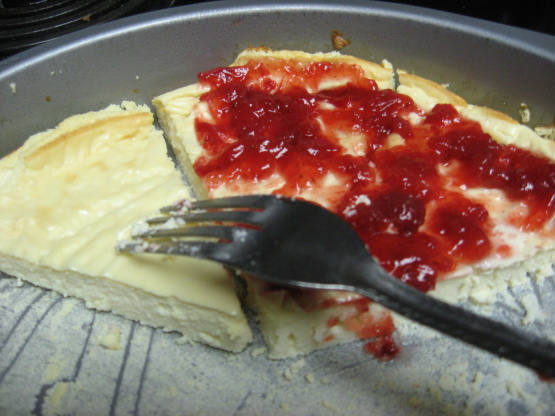 This is really good if you are trying to lose fat and maintain muscle. For whole recipe: Calories: 820 / Fat: 30g - 33% / Carbs: 22g - 9% / Protein: 112g - 57%

Just wanted to say you can use 8 oz package of FF cream cheese in place of 1 cup of the cottage cheese, Fage greek yogurt in place of sour cream, and 3/4 c protein powder (I used Cytomax from Costco) to significantly up the protein count and it still is delish!
Preheat oven to 375 deg F.
Put the cottage cheese, eggs, sour cream, whey powder, splenda, lemon rind an juice, and vanilla extract in a blender, and blend until very smooth.
Pour mixed into a sprayed pie pan.
Place the cake on the top rack of the oven and place a flat pan of water on the bottom rack.
Bake for 30-40 minutes. Cook, then chill well before serving.