Hidden Valley Ranch Cheese Ball
I made this 13 years ago to take to a Thanksgiving dinner and my family has asked for it every year since. Good and easy.
Directions
Mix salad dressing mix double strength (using the 1/2 mayonnaise and 1/2 cup milk).
Blend in cream cheese with mixer.
Gently stir in cheddar cheese.
Form into a ball (If too soft place in freezer for a hour).
Garnish with poppy seeds, parsley, nuts, or your choice of topping.
Serve with crackers.
Reviews
Most Helpful
This Cheese Ball is out of this world delicious. It's perfect for any occasion. It was a huge "hit" with my family for Thanksgiving!l Thanks so much for sharing! Melanie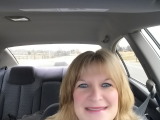 Quick and easy to make, but the flavor was fake and processed. I might consider making it for a 70's theme party, but not a special occassion.
Super easy, and tastes great. People really seem to either love it or hate it when I make it. More often than not they love it though! Thanks.