Hickory Smoke Split Pea Soup
Boomette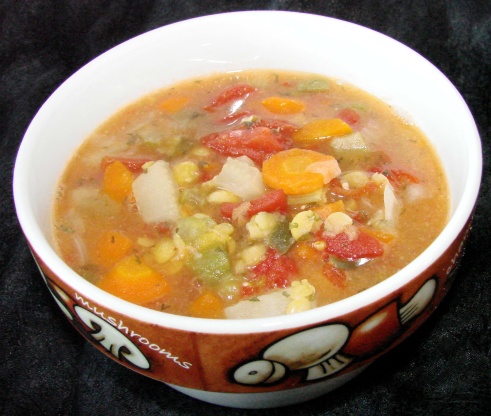 I've served this hearty soup for as long as I can remember. I think the liquid smoke really flavors the soup nicely and the absence of ham is not a drawback. BE SURE NOT TO ADD ANY SALT OR PRODUCTS THAT CONTAIN SALT TO THE SOUP BEFORE THE SPLIT PEAS HAVE BECOME TENDER! I generally make this soup into a stew by adding more carrots and potatoes. This makes a large kettle of soup, so unless you're serving a lot of people, you won't need to double the recipe. The split peas will need to be soaked 1 hour before you begin making the soup (see directions).
1

(1 lb) package dried split peas

8

cups water

1

medium onion, diced fairly small

1

medium green bell pepper (dice slightly larger than 1/4-inch by 1/4-inch square. )

2

large potatoes, washed, peeled and diced 3/4-inch by 3/4-inch square (I use Yukon Gold or Golden Potatoes and because of the thin skin I don't peel them. I fill my soup p)

4

celery ribs (Also include celery leaves from the entire package of celery. Cut off leaves with a knife and chop. )

2

cups carrots (dice slightly larger than 1/4-inch by 1/4-inch square. I use fresh, long carrots. Peel carrots, if d)

2

tablespoons dried parsley flakes
1⁄8 teaspoon black pepper, freshly ground

2

garlic cloves, peeled and minced (fresh)

1

bay leaf (I use 2 bay leaves-remove sharp stem ends and leaf tips!)

1

(28 ounce) can whole tomatoes, cut into small cubes with stainless steel kitchen shears (RESERVE THE TOMATO JUICE)

1

teaspoon liquid smoke (grocery item)
NOTE: The split peas will take 1 hour to soak before they can be used in the making of this soup (see below). There is also some time involved in preparing the vegetables. When the peas have soaked and the vegetables have been prepared, the soup will take 1 hour to cook.
Fill a medium soup pot with 8 cups of water.
Add the dried split peas.
Bring the water to a gentle boil; boil the peas for 2 minutes. Cover the pot with a lid and remove it from the heat source for 1 hour.
Add the remaining ingredients to the soup pot, EXCEPT for the TOMATOES, THE RESERVED TOMATO JUICE AND THE LIQUID SMOKE.
Bring the soup to a boil; reduce the heat to low and simmer, covered, for about 45 minutes or so, or until the peas are tender.
Add the tomatoes, the tomato juice, and liquid smoke. Cover the pot with a lid and continue to cook for an additional 30 minutes. Salt to taste. The soup/stew may be served with saltine soda crackers.