gracemur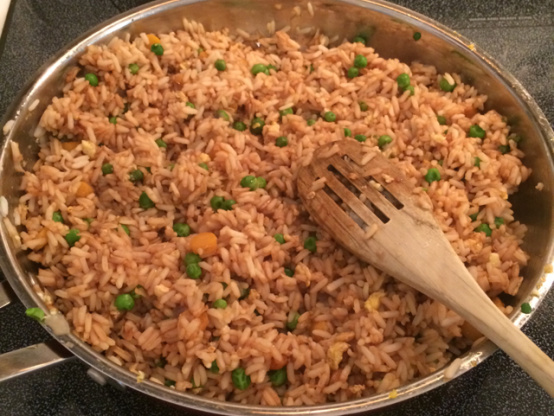 Make at home, restaurant style fried rice. My daughter loves the fried rice you can get at expensive Japanese Hibachi style restaurants. I make this all the time for her and she loves it. I usually make it without the peas and carrots.

I make fried rice all the time - I grew up with it. Looked at your recipe and think it's pretty spot on. I usually add garlic with the onions, cooked bacon (torn up), scrambled eggs (can cook in the microwave for a few seconds, then break it up and add) and green onions. I also use sesame oil or vegetable oil. This recipe is so easy; you can add bite-size cooked chicken or shrimp to make it a one-pot meal.
I use the boiling bags of rice, it's very easy and just the right amount.
Sauté onion, peas and carrots in olive oil.
Move vegetables to side of pan and lightly scramble the egg.
Add rice and margarine and sauté for 5 minutes.
Add soy sauce and cook for 1 minute.
Serve hot.