gracemur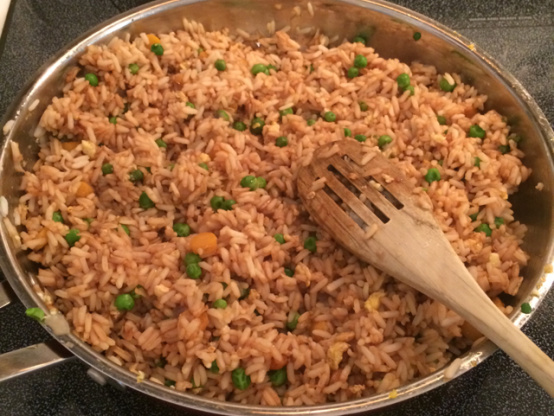 Make at home, restaurant style fried rice. My daughter loves the fried rice you can get at expensive Japanese Hibachi style restaurants. I make this all the time for her and she loves it. I usually make it without the peas and carrots.
Our local Shogun makes the absolute perfect fried rice. Agree with others that precook the rice and cool it down (put in fridge for a day even) before doing the fried rice. Also, we LOVE the spicy mustard sauce our local Shogun uses. Took me a while to find, but I HIGHLY SUGGEST S&B Oriental Hot Mustard POWDER (I buy it on Amazon) - it is the closest I've come to what the restaurant uses - everyone in my family likes EXTRA of this. Play with recipe as is on can and then tweak and adjust to your tastes.
I use the boiling bags of rice, it's very easy and just the right amount.
Sauté onion, peas and carrots in olive oil.
Move vegetables to side of pan and lightly scramble the egg.
Add rice and margarine and sauté for 5 minutes.
Add soy sauce and cook for 1 minute.
Serve hot.