Hg's Exploding Chicken Taquitos - Ww Points = 4
megs_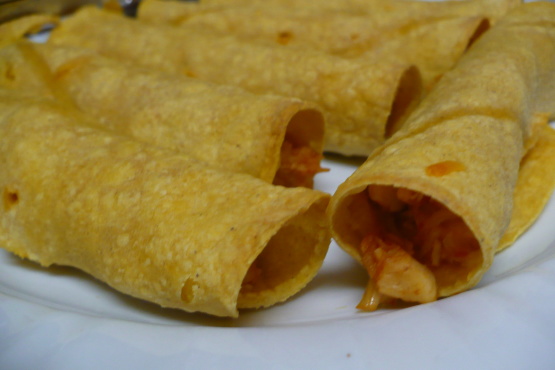 Here is another Hungry Girl Recipe: "Roll With It! These li'l Mexican treats are so stuffed, they're almost guaranteed to crack a bit when you bake 'em in the oven -- hence the name "Exploding." De verdad!" Serving Size: 2 taquitos Calories: 197 Fat: 2.5g Sodium: 594mg Carbs: 22.5g Fiber: 3g Sugars: 2g Protein: 20.5g POINTS® value 4*

I was afraid that these were going to be plain as I was mixing them up, but I was happily surprised to find that they had a lot of flavor! I used a black bean and corn salsa and fajita seasoning instead of taco seasoning. I wrapped them in egg roll wrappers (trying to use them up) and they worked perfect. Very easy recipe to make and very tasty!!
Preheat oven to 375 degrees.
In a medium bowl, combine the chicken and salsa, and mix thoroughly. Cover and refrigerate for 15 minutes.
Remove chicken mixture from the fridge, and drain any excess liquid. Add cheese and taco seasoning, and mix to combine. This is your filling. Set aside.
Prepare a baking sheet by spraying with nonstick spray, and set it aside.
Dampen two paper towels, and place tortillas between them. Microwave for about 1 minute, until tortillas are warm and pliable.
Take one tortilla (keep the rest between the paper towels), spray both sides lightly with nonstick spray, and lay it flat on a clean dry surface. Spoon about 2 heaping tablespoons of filling onto the tortilla. Spread it evenly across the entire surface, and roll tortilla up tightly, so that you have a cigar-shaped tube. Secure with toothpicks and place seam-side down on the baking sheet. Repeat with remaining tortillas and filling.
Bake for 14 - 16 minutes, until crispy. Allow taquitos to cool for 5 minutes. If you like, dunk in enchilada sauce, salsa, or sour cream!