Hg's Super-Skinny Skins - Ww Points = 2
teresas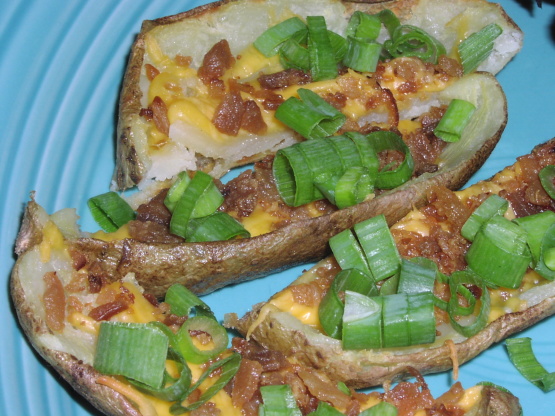 Another Hungry Girl recipe for Game Day - "Thin-Skinned Don't you miss the days of shoving hot, cheesy, AWESOME potato skins in your face? Good news, people. They're baaa-aaak! Thanks to your close, personal pal HG, you can chew these formerly evil snacks, sans guilt!" Serving Size: 4 pieces Calories: 146 Fat: <1g Sodium: 281mg Carbs: 25g Fiber: 4g Sugars: 1.3g Protein: 10g *2 Points Nutritionals may vary based on potato size.
Preheat oven to 375 degrees.
Prep potatoes by washing & drying to remove dirt and piercing them several times with a fork to prevent bursting while cooking. Place potatoes on a microwave-safe plate. Microwave for 4 minutes. Turn potatoes over and return to microwave for 4 more minutes. Allow to cool for a few minutes.
Cut potatoes in half lengthwise. Using a fork, gently scrape out the bulk of the flesh. Place potato skins on a baking dish spritzed with nonstick spray. Cook for 8-10 minutes, depending on how crispy you like your potato skins.
Evenly distribute cheese and bacon bits onto potato skins. Turn off oven, but return skins to the oven until the cheese has melted (for crispy crunchy cheese, leave the oven on). Remove and top with chives. Cut skins in half. Serve with fat-free sour cream and/or salsa.