teresas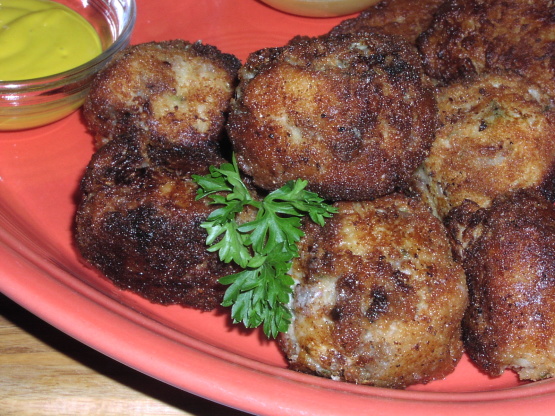 Found online; posted by Hey Hey Bar and Grill, German Village in Columbus, Ohio. Posting for ZWT6 (Germany) Prep/cooing time does not include time needed to chill the sausage mixture.

Thanks Hey Hey! I have tried those wonderful sauerkraut balls at the eponymous bar many years ago and have very fond memories. I was a little worried the recipe wouldn't be
In a large skillet, cook sausage and onion until sausage is brown, breaking sausage into small pieces; drain fat.
Drain sauerkrat, pressing out as much liquid as possible.
In a large mixing bowl, combine sauerkraut, sausage mixture, the 2 tablespoons bread crumbs, cream cheese, parsley, mustard, garlic salt, and pepper.
Cover and chill several hours or overnight.
Put flour in a shallow container.
In another shallow container, beat eggs and water until combined.
Put bread crumbs in a third container.
Using about 2 tablespoons for each, shape sauerkraut mixture into balls Roll balls in flour, then in egg mixture, then in bread crumbs.
Fry a few at a time in deep hot fat (365 degrees) for about 2 minutes or until brown.
Remove from fat with a slotted spoon; drain on paper towels.
Transfer to a baking sheet with sides; keep warm in a 275 degree oven Makes 24 to 30 balls.