Hershey's S'mores Sandwich Bar Cookies
mjz527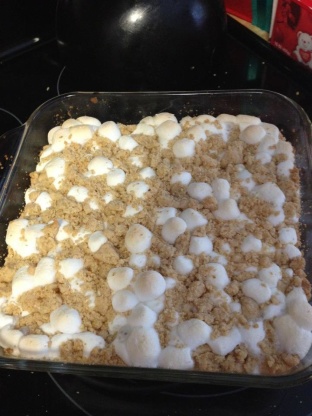 Oh. My. God. *moan* These are SO decadent, like richer, cookie-ish, layered s'mores. I love everything Hershey's, and this is no exception. This recipe is courtesy of the Hershey's Kitchens site, so you know it's good! This is my favorite diet cheat...beware, though. Once you start eating these, you will NOT be able to stop. ENJOY!
Heat oven to 350°F.
Grease 8-inch square baking pan.
Beat butter and sugar until well blended in large bowl.
Add egg and vanilla; beat well.
Stir together flour, graham cracker crumbs, baking powder and salt; add to butter mixture, beating until blended.
Press half of dough into prepared pan.
Bake 15 minutes.
Unwrap chocolate bars; arrange over baked layer, breaking as needed to fit.
Sprinkle with marshmallows; scatter bits of remaining cookie dough over marshmallows, forming top layer.
Bake 10 to 15 minutes or just until lightly browned.
Cool completely in pan on wire rack.
Cut into 16 bars.
YUM!