Hershey's S'mores Clusters.
jenirog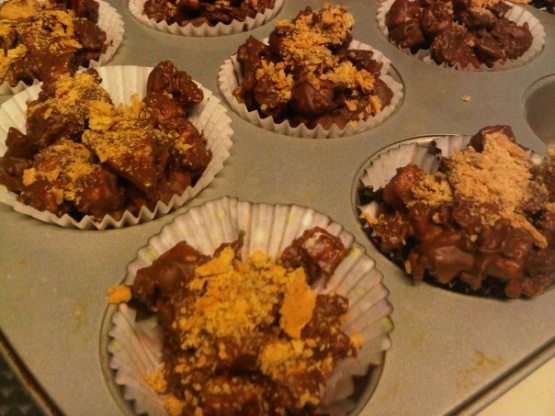 Easy recipe to make with the kids on a rainy day.

My kids love s'mores and I thought it would be fun for us to make these together. My daughter is almost 6 and my son is 4. They had a blast helping me break up the chocolate bars and scoop out the marshmallows. The recipe is quick and easy.

I didn't have the miniature cupcake liners so we used regular sized ones. The recipe ended up making a dozen large clusters. Everyone enjoyed them!
Break and heat 6 milk-chocolate bars in the microwave.
Stir in 2 cups of mini-marshmallows and 8 coarsely chopped graham crackers.
Drop spoonfuls of the mix into miniature paper muffin cups.
Cover and refrigerate until firm.