Hershey's Old Fashioned Rich Cocoa Fudge
Prep 40 mins
Cook 2 hrs 30 mins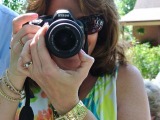 This is a crumbly, sugary old fashion fudge....from the back of the Hershey's Cocoa can. Cook time is cooling time. If you are having trouble with it "setting up", you probably didn't cook it long enough. I have learned (the hard way!) to not trust my candy thermometer and to use to soft ball stage water test to make sure it is the right temperature. Even under cooking it by 2-3° will result in a soft, sticky mess. It still taste good though. :) Some good suggestions from reviewers: (I highly recommend reading through all the reviews before making this fudge!) - don't try to bring up temp too quickly - a large shallow saucepan works better than a deeper one
Directions
Line 8 or 9 inch square pan with foil; butter foil.
In large heavy saucepan stir together first three ingredients; stir in milk, with a wooden spoon*.
Cook over medium heat, stirring constantly, until mixture comes to a full rolling boil.
Boil without stirring, to 234 degrees F on a candy thermometer (or until syrup, when dropped in very cold water forms a soft ball which flattens when removed from water). Bulb of candy thermometer should not rest on bottom of pan. (This can take 20-30 minutes).
Remove from heat. Add butter & vanilla.
DO NOT STIR! Cool at room temperature to 110 degrees F (lukewarm). (This can take 2 to 2-1/2 hours).
Beat with wooden spoon until fudge thickens & loses some of its gloss. (This can take 15-20 minutes. It really works best if you have someone to 'tag-team' with.) It starts to look more like frosting than a thick syrup when it is ready.
Quickly spread into prepared pan; cool.
Cut into squares.
Store wrapped loosely in foil in the refrigerator.
*it is very important not to use a wire whisk or the fudge will not set up. Also just stir gently, even though the cocoa will stay floating on top, it will mix in as the mixture heats up.
Reviews
Most Helpful
this is the best Fudge recipe ever. My dad made this for many many years and taught me to make it. I have been making it now for about 50 years.. It always takes my stove 45 min at least to get it to the soft ball. Do not stir to much while cooking.. We bring it to a small boil and keep it boiling. use ONLY A WOODEN spoon..(.Check your candy thermometer before to see if it is accurate by boil water and see if it boils at exactly 212. then you know if your candy thermometer is right.) We always also checked candy by dropping a small spoonful in a cup of very cold water when we thought it was done. it would form a small ball with your fingers. Then you knew it was done. We never let our set as long as these directions. Cooled in a pan of cold water about three to five min and then beat with a wooden spoon only till it loses its shine. This is no doubt the best candy in the world.. my son gets ever year at Christmas time.. at his request. :) ..This is a hard candy to make but well worth the effort..
This is a post script to my review. Add a big handfull of walnuts with the butter and vanilla at the end of the cooking portion not after it is cooled down as that will bring the temp down and make the fudge grainy instead of creamy.
This is a hard recipe to do if you have never made candy before.The soft water test can be a little tricky because the ball has to come together first to make a true ball but at the same time not too hard in feel and touch because then the fudge can become hard and crumbly. Use cold water to test candy in for water test. We always add 1 TBSP Karo syrup to cooking potion to keep candy from turning too hard from over cooking. And 1/4 cup peanut butter when adding vanilla keeps it from being too sugary. pour on buttered dinner plate it does make it thin but so good this way.
Holiday Central >