Hershey's Milk Chocolate Chip Pecan Pound Cake
Katzen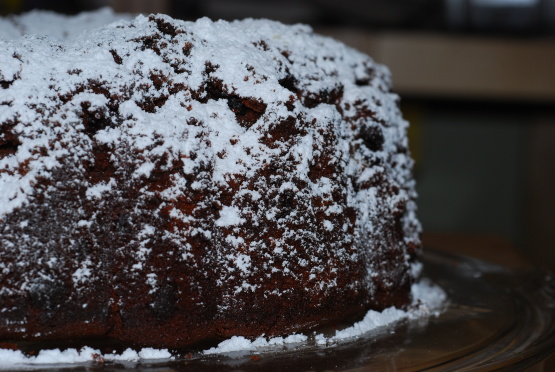 What a great pound cake! I found this recipe on the wrapper of Hershey's Milk Chocolate Chips. I am a pound cake finatic so I had to try it. We LOVED it. Give it a try. You can never go wrong with a Hershey's recipe.

I made this for my birthday and it came out great. I added toffee chips as well as pecans and chocolate chips to the cake and my family loved it and so did I. Thank you very much for a great recipe and for a great birthday cake. This is a chocolate lovers dream cake.
Heat oven to 350. Grease and flour 12 cup Bundt pan.
Place 1 cup of chocolate chip in bowl and microwave on medium power for 1 minute. Stir and microwave in 15 second intervals until chips are melted and smooth.
Beat butter in large bowl until creamy. Gradually add sugar, beating on medium until well blended (I cream these together for 10 minutes total). Add eggs, one at a time, beating 1 minute after each one. Add melted chocolate and beat until well blended, 1-2 minutes.
Sift together flour, cocoa, baking soda and salt. Add to chocolate mixture alternately with buttermilk, beating just until blended (don't over-beat or your texture will not be as good).
Add syrup and vanilla, blend. Stir in remaining 1 cup of chocolate chips and nuts. Spoon batter into prepared pan.
Bake 1 hour and 15 minutes or until pick inserted in center comes out clean. Cool 10 minutes then remove from pan and cool completely on wire rack. Sprinkle cooled cake with powdered sugar before serving.