Hershey's Kiss Peanut Butter Cookies
Brenda.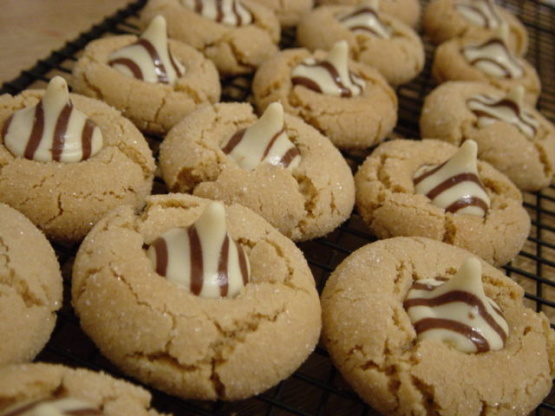 There are a few like these on here, but this particular recipe is my favorite. And I think it is the official version directly from Hershey's.

First of all, these are not for me -- not a huge peanut butter fan, but I did try one to make sure all was well. The cookie was so light I couldn't believe it! It was almost like a delectable crust of some sort, impressive to say the least. On the first batch I had unwrapped my chocolates ahead and was ready to go when they came out pipin' hot, but they were not sticking or melting to the cookie so I put them back in the oven for a 30 seconds or so. The second batch I cooked for 8 minutes since 9 was slightly too much for the first batch. On the last minute of cooking the second batch, I opened the oven and dropped the chocolates in place. By the time I had dropped all 12 in, it was time to remove and they were perfect. You definitely will not find these cookies in the grocery store on the shelves or the bakery. If you have a peanut/chocolate lover like mine, they will very much appreciate a fresh batch of these! Thank you for a very nice recipe. :)
Preheat oven to 375 degrees.
In mixer, beat shortening and peanut butter until well blended; Blend in sugars and beat until light and fluffy.
Add egg, milk and vanilla; Beat well.
Stir together flour, baking soda and salt; gradually mix in peanut butter mixture.
Shape dough into 1-inch balls and rollin additional sugar.
Place on ungreased cookie sheet and bake 8-10 minutes or until lightly browned.
Immediately place a Hershey's Kiss on each cookie and press down slightly.