Hershey's Hotel Chocolate Cream Pie
Marlitt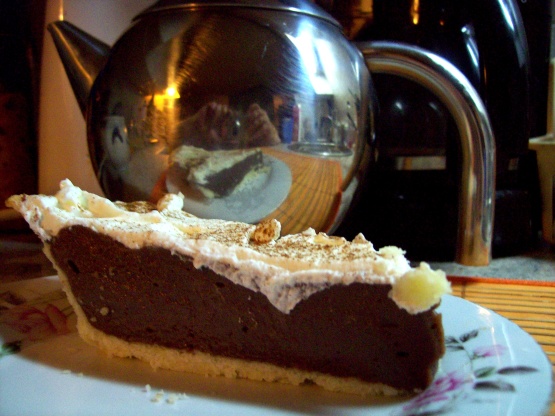 The classic chocolate cream pie, served at the Hershey Hotel. And now a little history: While the nation was suffering through the Great Depression, the "Chocolate King," Milton S. Hershey, had a vision. Though close friends and associates called him crazy and urged him not to do it, he was determined to build a grand hotel high atop Pat's Hill in the town he built on chocolate. Nearly three decades earlier, Hershey had perfected his formula for milk chocolate and began his planned community of Hershey, Pennsylvania. He had already constructed the chocolate factory, homes for his employees and a school for orphaned boys. Now it was time to realize his dream. Before his wife, Catherine, passed away in 1915, she and Milton had planned to build a luxury hotel in the style of those they loved during their travels abroad. They dreamed of re-creating the Heliopolis Hotel, a famous resort in Cairo, Egypt. Hershey went so far as to purchase the architectural plans, but when the estimated cost to duplicate the structure was $5 million, he abandoned the idea. In 1930, Hershey announced that he intended to build his hotel after all. He gave his architect, D. Paul Witmer, a postcard of a smaller hotel he and Catherine had enjoyed on the Mediterranean. His involvement didn't stop there. Based on travel notes he and his wife had kept, Hershey instructed Witmer to outfit the new hotel with a Spanish patio, tiled floors, a fountain, and a dining room with a good view from every table. During construction, as many a 800 steelworkers, masons, carpenters, and other craftsmen and laborers were employed on the Hershey payroll. "We have about 600 construction workers in this town," Hershey said. "If I don't provide work for them, I'll have to feed them. And since building materials are now at their lowest cost levels, I'm going to build and give them jobs." Work began in 1932, continued through a very mild winter and was completed in 1933. A formal opening celebration was held on May 26, 1933 with a dinner and dance for 400 invited guests. The $2 million Hotel Hershey opened for business the next day. It was an elegant jewel nestled in the rolling hills of Hershey's birthplace. A local newspaper observed, "Somewhat belying the simplicity of taste for which the "Chocolate King" is noted, the hotel is characterized by great luxury of detail and elegance of appointment. Tinted walls, palms and fountains, carved woodwork, and brilliant hangings and rugs." Indeed, a Mediterranean-style hotel in central Pennsylvania was unarguably distinctive. Among its unique features, the Circular Dining Room promised what Hershey wanted - a view from every table. Built in a semicircle, without pillars or corners, it allows each guest to view the breathtaking formal gardens on the far side of the windows. Thirteen stained glass windows frame the outside perimeter, with each pane depicting birds and blooms native to Hershey's beloved state. The Hotel Hershey celebrates over 70 years of tradition and elegance.

I have been looking for a new chocolate cream pie recipe and based on the reviews I thought I would try this one. The pie came out great and the entire family loved it, I did make some changes to it however which would expxlaine the 4 out of 5 star rating. I used 5 tablespoons of Hershey's Cocoa powder since I didn't have any bakers chocolate in the house, I added it to the milk mixture cooking on the stove. I also only used 4 tablespoons of cornstarch. The pie set up wonderfully and was so rich and creamy. This will be my go to recipe from here on out. Thanks for sharing.
In a 1-quart saucepan, heat 1 1/2 cups milk and sugar.
In a mixing bowl, combine the flour, cornstarch and salt. Add egg yolks and remaining milk; mix well. Temper this mixture by adding a third of the hot milk mixture.
Return all to the saucepan. Bring to a boil; boil and stir for 1 minute.
Remove from the heat. Add chocolate and stir until melted. Finish with butter and vanilla. Pour into pastry shell.
Refrigerate until set.