Hershey's Black Forest Pudding Cake
Rachchow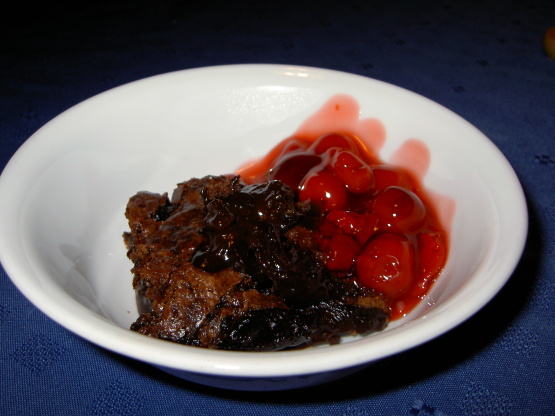 This is super easy and a yummy cross between a pudding and a cake.

Top Review by Chipfo
Delicious! I have made a simular cake before but without the cherry pie topping, that is very good. If I find the other recipe I will throw it out, only need one and this is it! I used the extract because I didn't have the brandy but I can't wait to try it that way too. Thanks Rach! Chip
Preheat oven to 350°F.
In large bowl, combine ¾ cup sugar, flour, 3 tablespoons cocoa, baking powder, and salt. Add milk, margarine, and vanilla; beat until smooth. Spread into an 8 or 9-inch square pan.
In small bowl, stir together ½ cup sugar, brown sugar, and ¼ cup cocoa; sprinkle mixture evenly over batter.
Combine hot water and kirsch; pour over batter. Do not stir.
Bake 30-40 minutes or until center is almost set. Let stand 15 minutes; spoon into dessert dishes, spooning sauce from bottom of pan over top. Serve with cherry pie filling.