Herby Persian Polow-Wow-Wow!
COOKGIRl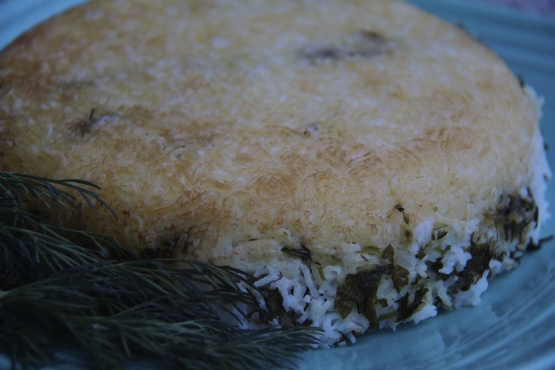 From a local source. This recipe yields a significant amount of rice therefore I cut the recipe in half. Reminder: *FRESH* herbs ONLY! I do not know how closely this rice dish resembles traditional Persian polow recipes. I made a very rare exception by cooking the cilantro and green onions as I much prefer them raw. If you want this recipe vegan you can substitute olive oil or similar oil but you may not get that cherished crust. Our menu tonight included the Persian rice, Easy Basturma Meatballs and Roasted Cauliflower With Harissa Sauce.
In a large bowl, wash and drain the rice in a fine mesh sieve. Transfer the rice to a bowl, cover with water and set the rice aside to soak for 1-2 hours.
Bring a large pot of salted water to a boil. Drain the soaked rice and stir it into the boiling water. Return to a boil and cook the rice for 7-8 minutes. Drain the rice and discard the water.
Mix the scallions, dill, parsley and cilantro together. Tip: I used the food processor to finely mince the scallions and herbs together.
Place the butter in the bottom of the pot you used to boil the rice. Gently melt the rice.
Spread one-third of the rice over the bottom of the pot. Next, spread 1/2 of the mixed herbs in a second layer over the rice. Now spread another 1/3 of the rice in a layer over the herbs and the rest of the herbs over this second layer of rice. Finally, top with the remaining rice and smooth out the surface. Stick four to five holes into the rice with the handle of a wooden spoon (a chopstick will work just as well if a wooden spoon not on hand.).
Cover the pot tightly with aluminum foil (I prefer a to use a sacking cloth/tea towel folded up into a square) and then with a lid and set over medium-high heat for two to three minutes. Reduce heat to low and simmer slowly for 30 to 40 minutes. Remove from heat and let rest another 15 minutes.
Two Ways to Serve the Rice: Version #1 and my preference is to first remove the lid from the pan, run a rubber spatula or similar gently around the edges of the pan to loosen the rice. Now place a large plate over the top of the pot of rice. Carefully flip the pan over and the rice should come out in a perfect circle. This isn't the easiest thing to do and it's probably taken me at least a dozen times to achieve marginal success. Keep trying!
Or, Version #2 is to gently stir the rice and herbs together with a large fork. Mound in serving dish and serve the crusty bottom (called the tadig) in a dish on the side.