BarbryT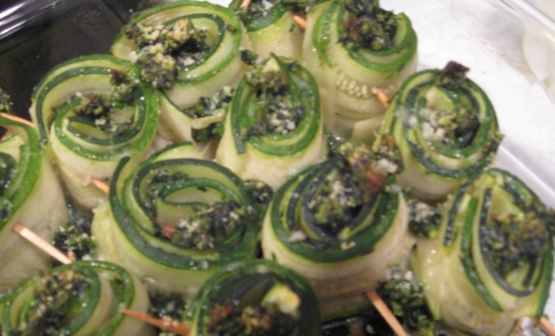 This recipe is from Gourmet magazine January 1990's "Finger Food Super Bowl Sunday Buffet" menu. I have not tried this yet, but I have lost a 10 year battle to keep all of my Gourmet back issues. I am posting the interesting recipes on Zaar.

Tasty but way more work than I generally am willing to undertake---especially for a side dish. I might do it for guests. A suggestion though: please indicate that the 2 cups parsley sprigs should NOT be "packed." My puree was much too thick, since I assumed "packed" parsley. These are beautiful, though.
Using a mandoline or similar slicing device, sut the zucchini lengthwise into 1/8 inch slices. Arrange the slices on a steamer rack, set over simmering water and steam them, covered, for 3 to 5 minutes, or until just tender. (The zucchini slices should be barely flexible enough to roll. They will soften more as they cool.).
In a food processor puree the parsley, garlic, walnuts, 2 tbsp of the Parmesan cheese and salt to taste until the mixture is smooth. Arrange the zucchini slices on a work surface and dot each slice along its length with a heaping teaspoon of the puree. Smooth the puree to an even layer on each slice.
Roll up each slice jelly- roll fashion and fasten the spirals with wooden picks.
Arrange the spirals in a shallow baking dish, sprinkle with the remaining 1 teaspoons Parmesan cheese. ( You can make these several hours in advance to this point).
Bake the spirals in the upper third of a preheated 425 F oven for 5 minutes or until the cheese is melted and the spirals are heated through.