Herbed Zucchini Cheese Bread
Binny R.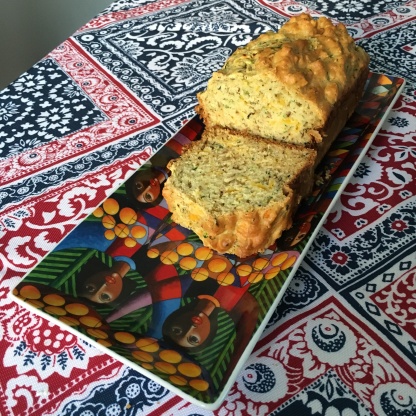 "This savory recipe makes a distinctive change from sweet zucchini bread and uses harvest from your herb garden, too. Spread slices with softened goat cheese for an appetizer or serve as an accompaniment to a main-dish soup or salad." -Hobbyfarmers.com

This was excellent - very moist and flavorful. For the fresh herb, we used basil. In place of the eggs, we used 1/2 cup of Egg Beaters. For the olive oil, we used 2 tablespoons Canola oil and 2 tablespoons unsweetened applesauce. We also used skim milk. These changes reduced the fat in the entire loaf of bread by 31 grams, the cholesterol by a whopping 417 milligrams and increased the protein by 9 grams. It was DELICIOUS! We also sprinkled some dry crumbled thyme on top before putting it in the oven.
Combine dry ingredients, herbs, green onions or shallots and cheese; stir to mix well.
In a separate bowl, beat eggs lightly; add oil and milk, and mix well.
Stir in zucchini.
Add liquid ingredients with zucchini to flour mixture and stir just until all ingredients are moistened; do not overmix.
Pour into a greased and floured 8- by 4-inch loaf pan, and smooth top of batter.
Bake at 350 degrees F for 40 to 45 minutes or until a toothpick inserted in the center comes out clean.
Let loaf stand for 15 minutes, then turn out onto a wire rack and cool completely.