Bergy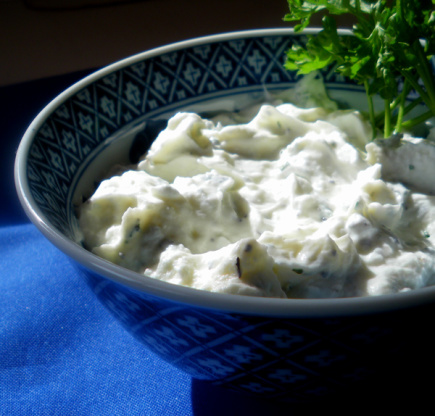 Yogurt cheese is a wonderful substituion for butter or margerine on crackers, bread etc.(Look at the calories) I love this herbed version on crostini, garnish with some parsley. It will keep in the fridge for up to a week. Use it plain or add your own favorite ingredients. No Fat yogurt works well - Make sure that the yogurt you use does not have geletin in it or it won't work.

Awesome! I am so happy with this recipe. Simple, but really adds pizzaz to HEALTHY yogurt cheese. I use a yogurt cheese funnel to make the cheese; it "drained" for 13 hours, then I added the herbs and let it meld in the refrigerator for about 6 hours before tasting. Used the dried basil, and fresh parsley. Wow! We loved it. Half of it was served with pita as an appetizer for a Middleastern dinner party, and was sprinkled with parsley and roasted pine nuts (both finely chopped). It disappeared! Thanks, Bergy for yet another winner!
First put a paper towel in the bottom of a strainer, put the strainer in a bowl with at least a 2" clearance on the bottom, put the yogurt in the lined strainer, cover with plastic wrap& place in the fridge over night orup to 2 days.
Drain & discard fluid Place the yogurt cheese in a bowl add remaining ingredients stir and enjoy Store the cheese in the fridge.