This dressing is so flavorful and full of herbs. What a better way to use those herbs from your herb garden. You can prepare this and store it and use it on any salad combination you like. Fresh veggies from your garden or you can even marinate your choice of meat with it.
Directions
In small bowl or a jar with a tight fitting lid, combine all ingredients and blend or shake until sugar is dissolved.
Add dressing to favorite salad combination.
Most Helpful
Fresh and lovely! This took just a minute to whip up into a fresh and flavorful salad dressing that I served over baby spinach. Simple and tasty! Thanks for such a fantastic and fresh recipe! Love this since my garden is producing these lovely herbs but I know that I will crave this in the winter as well and will either use some frozen or dried herbs from the garden or purchase them. Fantastic recipe! *Made for Please Try My Recipe Tag*

This was a great dressing;light, tasty and full of flavour. I did add some garlic intead of the sugar(personal preferance.) I also used frozen herbs;no fresh ones around here yet,but I always have a supply in my freezer from last year's crop. This was so fast to make that it will be my new stand by.Thanks doe posting this one.I made this for Photo Tag. Rita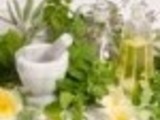 This recipe is so easy and tasty. It's sweet and tangy. We had it on grape tomatoes and it was a hit! Thanks for sharing :)