Hey Jude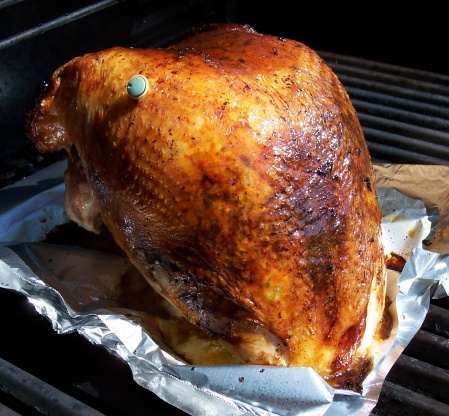 Herbs tucked under the skin gives the turkey a wonderful flavor the lemon juice gives a subtle hint of citrus. Recipe comes from Taste of Home Light & Tasty

Barb, this is a wonderful recipe! I used a 6 1/2 lb. turkey breast with a pop-up timer. Your directions were so simple to follow! The results were fabulous, moist and very flavorful! Thanks for sharing this recipe with us, Barb!
Preheat oven to 350°F.
Loosen skin from turkey with fingers, leaving skin attached along bottom edges.
In a small bowl, combine 1 tablespoon lemon juice, 1 tablespoon oil, garlic and seasonings.
Spread under turkey skin.
Combine remaining lemon juice and oil; Set aside.
Place turkey on a rack in a shallow roasting pan.
Bake, uncovered for 2-1/2 to 3 hours or until meat thermometer reads 170°F.
Basting every 15 to 20 minutes with lemon mixture.
Let stand for 10 minutes.
Discard skin before carving.