PanNan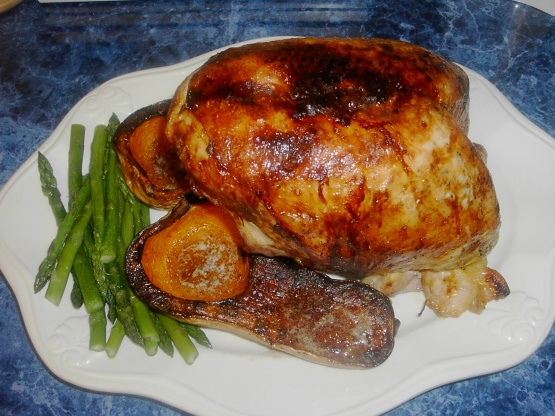 This recipe I adapted from a magazine Taste of Home's Light & Tasty. The aroma is great and the oil and juice under the skin keep it nice and moist. The chopped veggies add great flavor to the gravy.

Top Review by Gisela
Made this for our Thanksgiving dinner. It was excellent. I believe it is the best turkey breast I have ever eaten. Easy to do and I changed nothing.
Loosen skin from turkey with fingers, leaving skin attached along bottom edges.
In a small bowl, combine 1 T lemon juice, 1 T oil, garlic and lemon pepper.
Spread evenly under skin.
Combine remaining oil and lemon juice and set aside.
Place turkey on rack in roasting pan, with vegetables under cavity of breast.
Baste breast with combined oil and lemon juice.
Bake uncovered at 350 degrees for about 2 1/2hours or until juices are clear, basting occasionally with juices.
Shield loosely with foil, if browning too quickly.
Let stand covered for 10 minutes.
Discard vegetables, and make a gravy with juices.