Parsley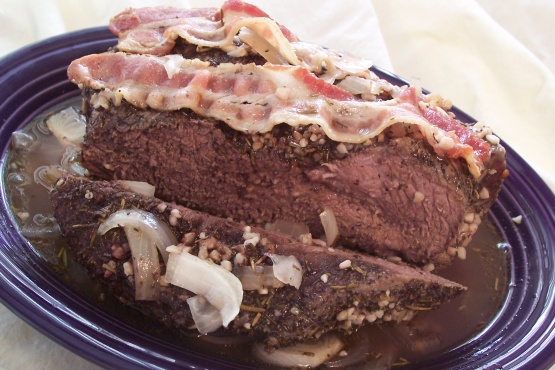 Taken from The Everyday Low-Carb Slow Cooker Cookbook

Very good! This is much more flavorful than most other crock pot recipes I've made. It is not bland at all! I used fresh thyme (triple the amount specified in the recipe). I definitely recommend doing this. We could tell it was better than it would have been with dried thyme.
Pour the red wine and water into the slow cooker crock; set aside.
In a small bowl, combine the herbs, pepper, salt, and olive oil; stir to combine. Using clean hands, rub the oil and herb mixture all over the beef roast. Place the roast into the slow cooker crock. Sprinkle the garlic and onions aroudn the raost and lay the bacon strips over the top of the roast.
Cover and cook on LOW for 10 hours.
Before serving, flip the roast over in the slow cooker, then turn the slow cooker off and let the roast rest in the slow cooker for about 15 minutes. Remove roast to a platter and let it drain for a few minutes.
To serve, use a sharp knife to slice the meat against the grain. If you like, dip the roast slices into the cooking juices before serving, or serve the cooking juices alongside the beef.