Herbed Tomatoes Provencale
Rita1652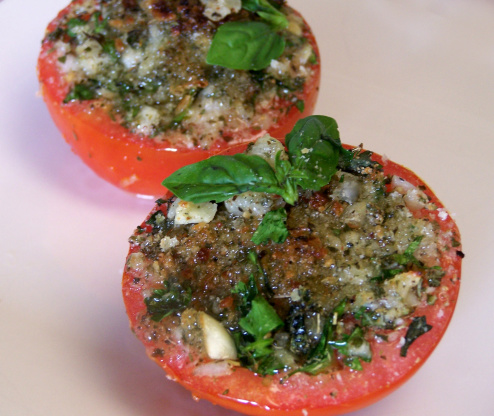 A different French Tomato Provencale. Use summer vine-ripened for best taste. ZWT3.

Top Review by taycam
Delicious! I saved a step by mixing olive oil, salt, and pepper into the filling rather than drizzling it onto tomatoes first. I used rye bread crumbs, which looked like and had the texture of ground meat. My family and I are new to the vegetarian scene so this was a good transition recipe.
Preheat your oven to 400ºF (200ºC).
Remove stems of tomatoes.
Cut tomatoes in two half.
Squeeze out seeds and juice. Add salt and pepper.
Blend rest of ingredients together in a bowl.
Fill each tomato with mixture.
Sprinkle tomatoes with olive oil.
In a baking or gratin dish, arrange tomatoes not too close to each other.
Bake tomatoes in oven for 15 minutes and NO LONGER!
Remove immediately.