Brenda.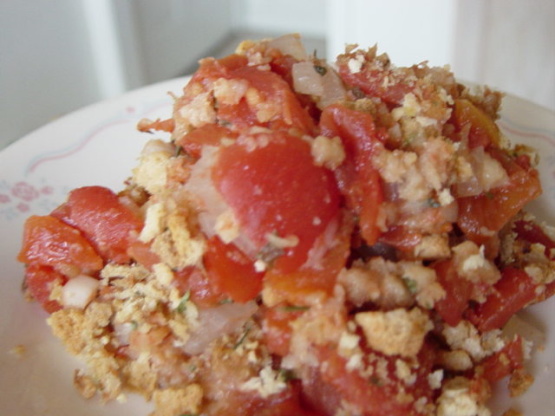 This recipe from Southern Living 1981 makes a wonderful side dish. It's even more delicious using fresh tomatoes from the garden.

Top Review by Debbwl
Have never had can tomatoes anyway even close to this before and we liked. Love how easy, budget friendly and taste this was. Got busy and ended up leaving it in the oven for an hour, but oh happy days it did not burn and was still plenty moist. Used fresh rosemary as we have lots in the yard and adds greatly to the tomatoes. Thanks for the post.
Preheat the oven to 375 degrees.
Cut the tomatoes in quarters; reserve the juice that accumulates when you cut them.
In a large bowl, combine the tomatoes, accumulated juice, 1 c stuffing mix, onion, sugar, salt, oregano and rosemary.
Mix well and pour in a greased 1 quart casserole.
Sprinkle the remaining 1/4 stuffing mix on top of the tomatoes and dot with butter.
Bake at 375 for 45 minutes.