karen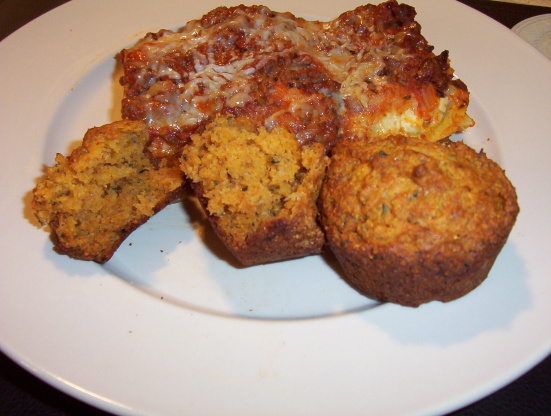 These are good along with savory soups/stews.

Top Review by karen
I made a half batch of these muffins, following the recipe exactly except for using dried herbs instead of fresh and using shredded parmesan cheese. They came out fine, but just didn't have that wow effect for me. They were pretty with the tomato color, and were a nice side for my lasagna.
Preheat the oven to 400 degrees and place the rack in the center of the oven.
Add flour, cornmeal, sugar, baking soda, baking powder, salt, basil, oregano, and thyme to a mixing bowl; whisk until well combined; set aside.
In a large mixing bowl, whisk eggs until lightly beaten; whisk in the tomato soup, melted butter, and lemon juice.
Stir in the cheese; then add the flour mixture, stirring just until moistened but of a uniform color (do no overmix).
Fill muffin tins that have been sprayed with nonstick cooking spray 3/4 full with batter.
Bake for 18 minutes or until muffins have bumpy, rounded tops and pick comes out clean.
Place pan on a wire rack; let cool for 10 minutes.
Turn muffins out of pan; cool 5 more mintesu on the rack before serving.
To store or freeze muffins, let them cool completely before sealing an airtight container or freezer-safe bags.
**Cheddar Tomato Muffins--omit the herbs; substitute shredded cheddar cheese for the Parmigiano-Reggiano.
**Chunky Tomato Muffins--omit the herbs; add 1/2 cup marinated sun-dried tomatoes, drained and chopped, with the cheese.
**Olive Tomato Muffins--omit the herbs; add 1/2 cup sliced pitted olives (green or black) with the cheese.
**Tomato Muffins--omit the herbs.