loof751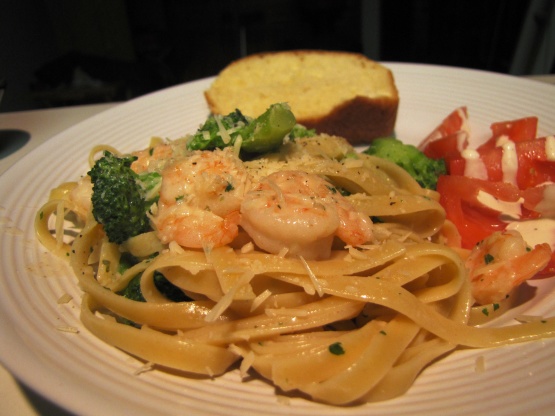 Everyone will think you went all out when you serve this impressive seafood entree. You'll be amazed at how easy and quick it is to make.

this was very good but I made the mistake of adding in salt, I would suggest not to as the dry soup and cheese already has plenty in it, I sauted some fresh garlic in butter firstly and also added in crushed chili flakes, next time I will omit the salt, that was my error so I am still giving this 5 stars all the way, thanks for sharing barefoot!
Cook fettuccine according to package directions.
Meanwhile, combine soup mix and milk in a sauce pan. Cook and stir over medium heat until smooth.
Add shrimp and broccoli; simmer, uncovered, for 3-5 minutes or until shrimp are pink (do not boil).
Drain pasta; toss with the shrimp mixture. Sprinkle with Parmesan cheese.