Herbed Seafood Crepes With Mornay Sauce
chia2160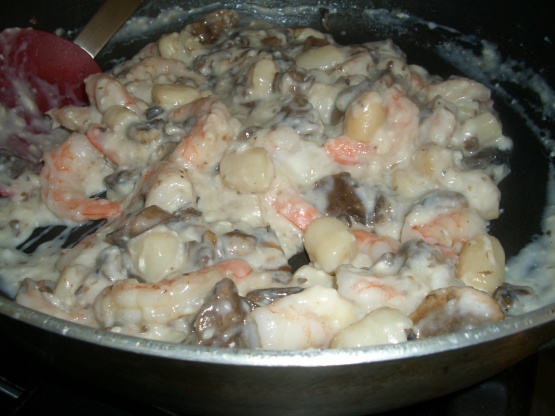 The herbed crepes can be doubled and extras frozen. Double all the ingredient, but use only 3 eggs. Use any combination of herbs that you like. We used chives and thyme.

we made this recipe yesterday for the french forum crepe cook along. the filling was incredible! i used half a pound each of shrimp and bay scallops, and i couldn't resist adding 8 oz sliced cremini mushrooms. a simple, elegant, delicious dish.
To Make Crepes:.
In a mixing bowl, whisk together flour and salt.
Add eggs and milk and whisk until smooth. Stir in butter and herbs.
Batter should be consistency of thin cream. Let stand 30 minutes, then stir before using. Make crepes in a hot crepe pan or light nonstick pan filmed with butter, if needed. Stack crepes on waxed paper and let stand until ready to use, up to 2 hours, or wrap and freeze. Thaw at room temperature until they can be separated without tearing.
To Make Sauce:.
In a saucepan, melt butter over medium heat. Whisk in flour and cook briefly. Whisk in milk and stir until smooth and starting to thicken.
In a small bowl, whisk egg yolk with cream. Spoon a little of the hot sauce into the egg yolk and combine, then stir yolk mixture back into the sauce.
Season to taste with nutmeg, salt and pepper, then stir in 2 T each Parmesan and Gruyere. Stir in cooked seafood and cook briefly until heated.
To Assemble:.
Place one crepe on a heat-proof dinner plate and spoon seafood and sauce down the middle. Roll crepe and reapeat. Spoon a little extra sauce over the crepes and sprinkle with remaining cheeses.
Repeat.
Place plates under hot broiler until edges of crepes are starting to brown.
Serve hot.