Herbed Roast Chicken Legs
PaulaG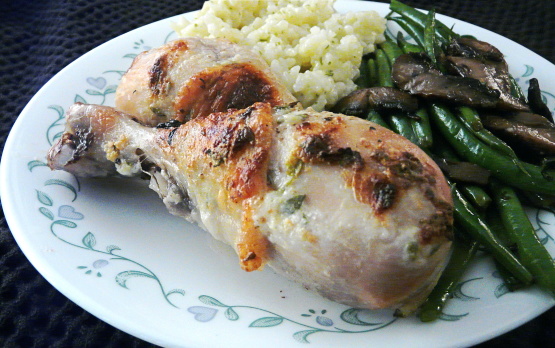 This can also be made using a whole chicken, thighs or drumsticks. Hope you will like this!
Top Review by PaulaG
This is a very nice way to roast chicken legs. The herb-butter mixture provides a wonderful method by which to keep the chicken moist while baking. I used cream cheese, plain Greek yogurt and an herb mixture of fresh lemon thyme and lavender. It was necessary to bump up the temperature to 400 degrees and roast the chicken legs for about 40 to 45 minutes. They were served with fresh green beans and Parmesan risotto for a wonderful meal.
Preheat oven to 350°F.
Beat together the mascarpone, sour cream, butter, herbs, lemon rind, salt and pepper.
With your finfers gently loosen the chicken skin to create a pocket, try also to loosen the skin of the drumstick. Using a small spoon or your fingers push a 1/4 of the herb mixture into the pocket, even it out and fold the skin back in place.
Repeat with the other legs.
Drizzle a few drops of olive oil over the chicken, massage it in allover the flesh with your hands, sprinkle with salt and pepper.
Place in a roasting tin, roast on 350F for 35-45 minutes.
Baste once or twice during cooking.