WiGal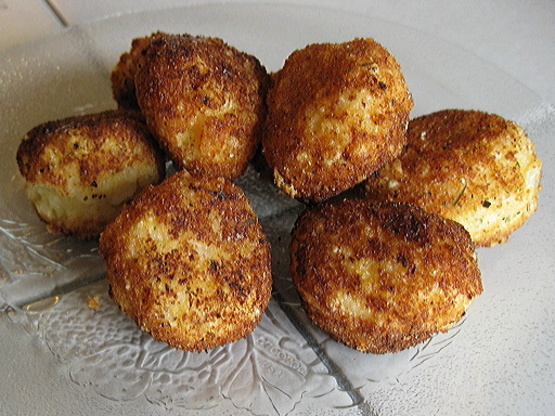 Love these little rice puffs. Makes a nice appetizer I add about twice the Summer savory The servings are approximate and prep time includes chilling time

Top Review by WiGal
Love that you can make something out of leftovers! Any recipe that has a plan over ingredient I appreciate. I used cold short grain riced and seasoned that with Italian seasoning. I chilled ours for an hour and a half, squished the rice mixture together real tightly, seasoned the bread crumbs with more Italian seasoning, and had no problems with them falling apart as you can see from my photo. DH pan fried them and you can see he did a perfect job! Thanks Wicked for another winner! Made for Everyday is a Holiday.
Beat egg and stir in rice, seasonings and cheese.
Chill for an hour.
Shape into balls and roll in bread crumbs.
Deep fry until golden.
You can make ahead and store in fridge for 12 hours. Just reheat in a 350 oven.