katew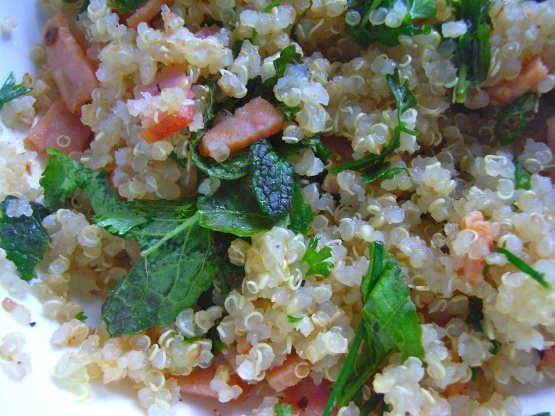 After the holidays we need some healthy food.

I'm a big fan of quinoa, I've only started eating it lately, but it's my new favorite "side-dish" even if I eat it as a main dish. I do have to admit that I am not a fan of goat's cheese, so I used a really good sheep's milk feta. The sharpness of the cheese went beautifully with the nutty flavor of the quinoa. Before squeezing the juice out of the lemon I zested it and also tossed the zest in with the parsley. The recipe calls for 1 tablespoon of pine nuts, but that's a joke in this family, I topped it all with about 1/2 cup of pine nuts, which we all fought over, of course. Rita, thanks for helping me to add another quinoa recipe to my repetoire!
To cook the quinoa: bring 2 cups of water or stock to a boil in a 2 quart saucepan.
Add 1 cup of quinoa.
Reduce the heat to low, cover the pan and cook for 10-15 minutes, or until tender but not mushy.
Drain off any remaining liquid.
Fluff with a fork to separate the grains.
Allow to cool before combining in salad.
In a 2-quart saucepan over high heat, bring one quart water to a boil.
Add the peas.
Cook for about 4 minutes, or until tender; do not overcook.
Drain and rinse under cold water.
Place the quinoa in a large bowl.
Add the peas, goat cheese, parsley, basil, tarragon and chives.
Toss lightly.
In a cup, whisk together the lemon juice and olive oil.
Pour over the salad.
Top with pine nuts.