kolibri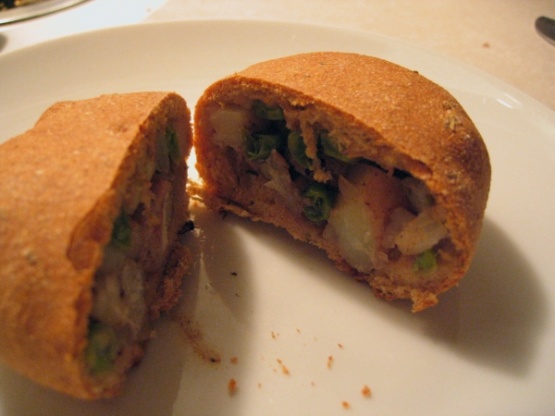 This is a vegetarian main dish that can be frozen and reheated in your microwave for a quick healthy alternative to the freezer section variety in your grocery.

Thanks- I really enjoyed this recipe. I streamlined the process, added more curry, and less peas to suit my taste. Would have been good as it was, but I needed to change the process so I could have them ready for work today. Start to finish was about 40 minutes and they still turned out great. Can't wait to add this to my OAMC plans!
Update: Love, love, love these. I change up the filling sometimes to suit the taster. I make potato cheese for my daughter. I haven't made these in a while and can't wait to make them again.
Place all dough ingredients in bread machine and process on dough setting.
When done, flour a board and your hands and divide the dough into 8 pieces.
Flatten each piece into a 6" circle, about 1/4" to 1/8" thick.
Place several Tbs of filling in the center and pinch dough closed around it.
(Use your dough press if you have it) Place seam side down on nonstick baking pan.
Dust it with flour.
Let rise for 15 minutes.
Bake for 30 minutes in preheated 400F oven.
Should be golden brown when done.