Boomette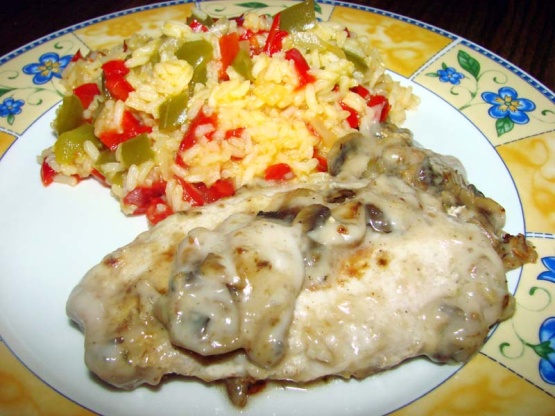 Easy, quick dinner. This is really good with rice or mashed potatoes.

Very tasty dish. I don't usally go for recipes using canned mushroom soup as a base - however this one really won me over! The chops came out juicy and tender, with a nice gravy. I loved the mushrooms in this. I would have liked much more herb flavor and less saltiness - perhaps using a low sodium version of the soup would help, as well as fresh herbs. But still quite enjoyable and certainly something I would make again.
Mix flour, sage and thyme.
Pat pork chops dry and then dredge in flour mixture.
Saute pork chops in large skillet with butter until browned.
Remove from skillet.
Add mushrooms to skillet and cook for approximately 5 minutes (add more butter if needed).
Add soup and bring to boil.
Reduce heat to medium-low and place pork chops back into skillet.
Simmer until pork chops cooked through, about 10 minutes.