Rita1652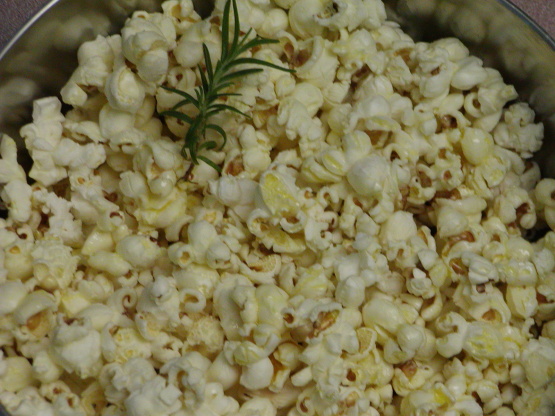 I found this easy snack recipe when looking for different ways to use garden herbs. Although I haven't made this yet I am planning on making this when rosemary is ready for use. Recipe source: Garden Guide 2004. Prep time includes 48 hours standing time.

The rosemary was just a hint which I think is a good thing. This cooked up pretty fast. With Microwave oven now a days you forget about stove top popcorn. This is a leaner way of having popcorn. You don`t open a bag full of who knows what (salt, Fat, Chemicals) when it comes out of the micro! Thanks for posting this!
Heat oil in a small saucepan over low heat for 3 minutes.
Add popcorn kernels, rosemary sprigs and 1 teaspoon salt to oil.
Remove from heat and let stand at room temperature for 48 hours.
Drain kernels, reserving 3 tablespoons oil, discard rosemary.
In a large dutch oven place the 3 tablespoons of reserved oil and add corn kernels.
Cover pan and cook for 4 minutes over high heat, shaking pan often (or corn will burn) until popping begins to slow down.
Remove from heat.
Let stand 2 minutes or until popping stops.
Place popcorn in a large bowl.
Add remaining 1/2 teaspoon salt, pine nuts (if desired) and chopped rosemary.
Toss.