Outta Here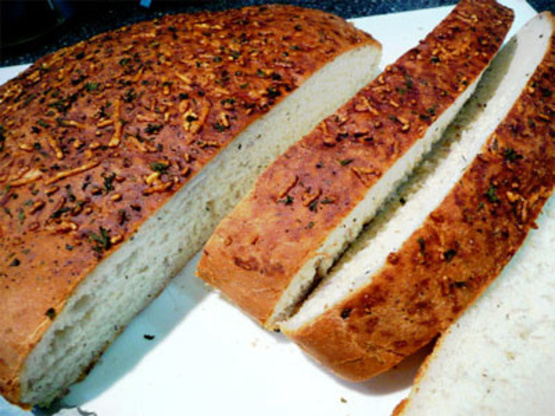 I found this recipe in my recent Taste of Home magazine. Its sounds so good and uses a bread machine. It is described that it is best served warmed and the next day makes the best toast you've ever had! Time does not include time for the bread machine cycle. This makes a 1 1/2 lb loaf.

Top Review by JoeyV
Delicious! And that's all I have to say about that. Update: formed 4 small round loafs, scooped out the middle to make bread bowls, and poured in New England clam chowder (from a can, sorry). TRY IT!
In bread machine pan, place the first 11 ingredients in order suggested by manufacturer. Select dough setting (check dough after 5 minutes of mixing; add 1-2 tablespoons of water or flour if needed).
When cycle is complete, turn dough onto a greased baking sheet and punch down (dough will be sticky). With lightly oiled hands, pat dough into a 9 inch circle. Brush with oil; sprinkle with Parmesan cheese, parsley, salt and pepper. Cover and let rise in a warm place until doubled, about 45 minutes.
Bake at 400 degrees for 18-20 minutes or until golden brown. Cut into wedges; serve warm.