Herbed New Potatoes (Adapted from the Barefoot Contessa)
Pneuma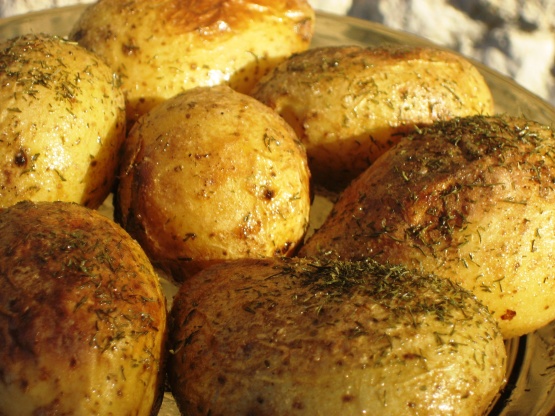 These are the most wonderful potatoes. My family all really love them. How nice to have wonderful and easy in the same recipe. When new potatoes aren't available I have used the bags of very small potatoes available in any supermarket. This recipe is too good to be left for only one time of year!

These were great, and very easy! I used baby new potatoes and turned the heat up to low/med as my low was not enough to get these cooking, but once I did that they cooked quickly and easily and the aroma in the house was wonderful. Even my toddlers enjoyed them - family friendly tasty recipe -- thank you for sharing!
Melt the butter in a large heavy bottomed pot.
Add the whole potatoes, salt and pepper and toss well.
Cook tightly covered 20 to 30 minutes over low-heat until fork tender. Don't overcook! (check at 20 minutes).
Shake the pot several times to prevent the potatoes from sticking to the bottom or burning. *Don't remove the lid.
Turn the heat off and keep the lid on for another 5 minutes.
Toss gently with herbs and serve hot.
Enjoy!